Attacking Midfielders
This RFL Battle will be the most interesting one for sure. Both of them were compared before.
On one hand we have a great playmaker himself, Witsel.
On the other hand we have once a captain of Class on Grass and Pelicans, Skjold.
Witsel' Achievements
N/A
(couldn't get them if there was)
Trophies
Witsel wasn't noticed much in season 1 under captaincy of Kacaniklic, but when season 2 approached, he knew exactly what he wanted. Soon after he was a captain of Season 3 lasting DreamCathers. Only there he proved the community how good he is with his passing and playmaking abilities. Season 2 went down really well for them. In Season 3 Witsel really thought about ending his Real Football Presence with deleting his account. He came though for the currently running Season 4 under the captaincy of Renbaudach. A team where he will be able to play with the best. He is currently in Harlem Bike thieves where he will have to try his best to stay in the 1st lineup which will be hard considering how good the players actually are there, He might not be as satisfied as captaining DreamCathers and playing every game he wanted to as a captain.
Positives
Great Passing and moves

Great Playmaking abilities
Negatives
Gets frustrated about things sometimes not going his way.
Skjold' Achievements
N/A
(couldn't get them if there was)
Trophies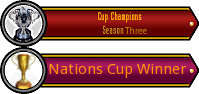 From the start of the league, He knew he wanted to captain a team, so he did. He captained a team called Class on Grass which was really successful in season 1 finishing 3rd under Total Hax and The Muffin Stuffers. In season 2, Skjold wanted something different, a different team to manage, No one knows what made him leave Class on Grass for Calloway who then disbanded it. In Season 3 he applied for captaincy of Swedish Vikings/Pelicans soon after captained by Himself and Samuel, not for long anyway. Season 3 went down good for them, Finishing 6th as a new formed team. In all of his seasons here in Real Football League, He always achieved something if it was Top Assist or Goal Awards. When Season 3 Neared to an end, Skjold offered a chance to Beninho to captain Pelicans, He accepted. Many Thought he was leaving Pelicans also, but he didn't.
Positives
A Great leader
Great passing.
Negatives
Can sometimes make some unprovoked mistakes, Just sometimes.
______________________________________________________
Vote Below explaining. I couldn't get the achievements for some reason, I will if i will be able to, Sorry! Hope it was a decent read.